This tutorial will cover getting Indigo running with Indigo for Cinema 4D on your computer.
This tutorial is for Windows users.
If you have not purchased an Indigo licence, you can still follow this tutorial. Indigo will run in trial mode, which will apply some watermarks to Indigo renders.
Step 1: Check your version of Cinema 4D
Indigo for Cinema 4D is compatible with 64-bit versions of releases 12 to 23 of Cinema 4D.
Step 2: Download Indigo
From the page http://www.indigorenderer.com/download-indigo-renderer, download the latest version of Indigo for Windows.
Step 3: Install Indigo
Once you have downloaded the Indigo installer program in Step 2, run the installer program.
If the installer asks you "Do you want to allow the following program to make changes to this computer", select "Yes".
Then accept the licence agreement.
On the 'Choose components' page, select select the C4D Exporter, and press "Next".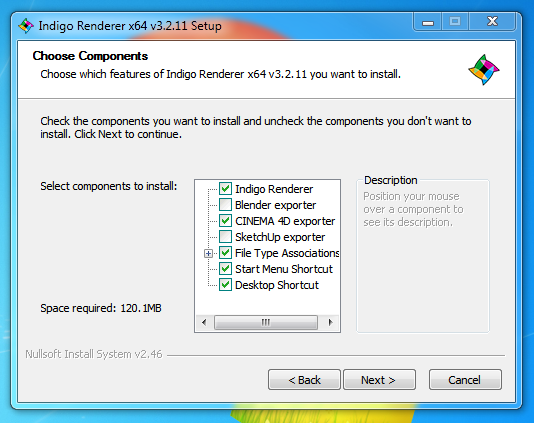 On the "Choose Install location" page, leave the Destination Folder as it is, and press "Install".
Step 4: Install Indigo for Cinema 4D
An installer will launch where you can select the C4D versions you want to install Indigo for C4D for on the "Choose components" page.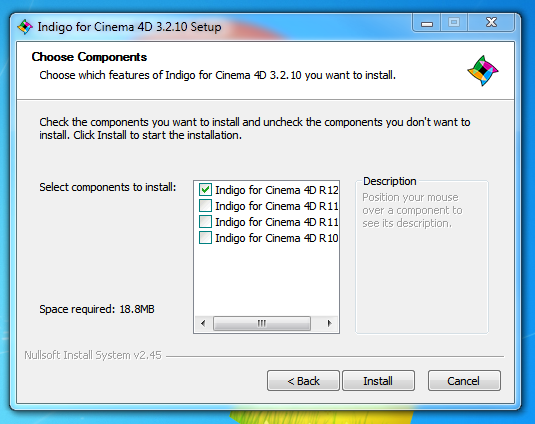 After selecting, press "Next".
For every selected version, another installer will launch.
The installers will try to automatically detect your C4D installation directory. If the directory could not be automatically detected, set it to the main C4D directory.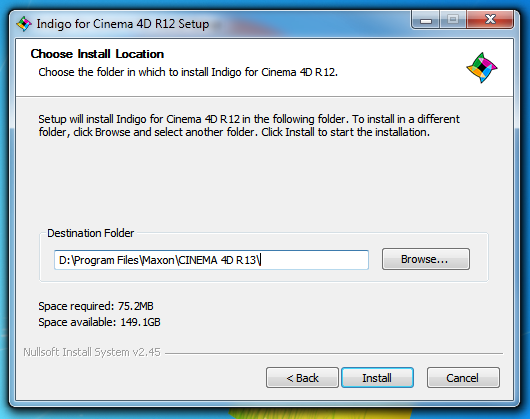 Step 5: Locate Indigo Plugin menu
Once installed you can find Indigo for Cinema 4D in the "Plugins" menu inside Cinema 4D: