Indigo 3.6 Stable released
Written Wednesday 13 Nov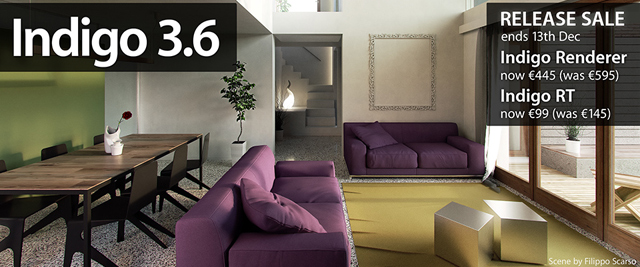 Glare Technologies is pleased to announce the release of Indigo 3.6 Stable!
After a period of intensive development, in which many powerful new features were introduced and the user experience refined, the final stable release is now available.
This release is free for all existing Indigo 3.x customers.
For more information please see the Indigo 3.6 release page here: http://www.indigorenderer.com/threepointsix
Indigo 3.6 is the latest milestone in our journey to make Indigo more powerful than ever, while also making it as easy to use as possible.
Particularly sought after are the new compositing features, including enhanced alpha output and a shadow-catcher rendering mode, to greatly accelerate your visualisation workflow.
Two new material types have been added, and the existing materials have been made more realistic and flexible.
Scene objects and light sources can now be hidden from direct view of the camera, a tremendously convenient feature for product visualisation shots.
We've also introduced a new spherical camera type for creating panoramic images.
Indigo's integration with 3ds Max has been tremendously improved since Indigo 3.4, with many bug fixes, workflow improvements and Indigo features supported.
Indigo for Revit also has brand new support for Revit 2014, allowing for stunning renders straight out of Revit.
We'll be running a 25% to 33% off sale until the 13th of December, during which Indigo Renderer will be priced at only €445 (normally €595), and Indigo RT only €99 (normally €145).
Upgrades from Indigo RT to the full Indigo Renderer will also be discounted, at only €345.
Indigo 3.6 is is available on the downloads page: http://www.indigorenderer.com/downloads