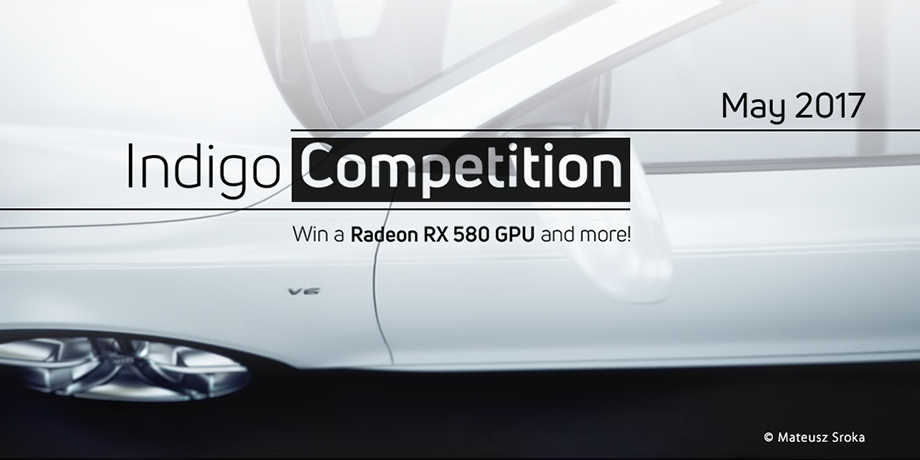 With all the big changes since our last Indigo competition, we figured it's high time for another one! For this competition we'd like to get some
new scenes to be included with Indigo
.
There will be at least 3 Main Prize winners, as follows:
1st place:
Indigo Renderer 4.x and Chaotica Studio licence, plus an
AMD Radeon RX 580 8 GB GPU
, Indigo T-shirt and mug
2nd place:
Indigo Renderer 4.x and Chaotica Studio licence, plus Indigo T-shirt and mug
3rd place:
Indigo RT and Chaotica Studio licence, plus an Indigo T-shirt and mug
There is no limit to the number of main prizes
, it all depends on the quality and file size of the submissions! If there are more than 3 Main Prize winners, the prize will be the same as the 3rd place prize.
In addition to the main prizes,
we will randomly select
one entry to receive a prize equivalent to 3rd place, and two others for the Indigo shirt and mug.
Here are the rules:
If you are selected as a winner, we ask you to provide a Packed Indigo Scene (.pigs file) to be included with Indigo and IndigoBench.
You are welcome to submit as many entries as you like.
Submissions can have any theme, as long as there is no nudity, gore, etc.
Submissions must not contain assets or logos copyrighted by a third party.
Submissions must be a new work not already featured in the image gallery.
Submissions will be judged based on direct output from Indigo, however you are welcome to submit a final image with post-processing.
Submissions must be sent before the end of May to contact@glaretechnologies.com, and the final image(s) posted in this thread.
Also, some guidelines:
Please try to keep the entries as small as possible, with a limit around 5 MB. This will greatly improve its odds of being selected!
Please try to keep the scenes reasonably fast-rendering. This makes interior scenes more challenging, but also more valuable / higher scoring.
Bonus points for showcasing newer Indigo features such as GPU rendering and colour response curves.
You may nominate someone else to receive your prize if you prefer (useful in case you already have an Indigo licence).
You may place a small credit notice (your name / company) to make it more worthwhile for you to enter, i.e. exposure value.
That's it, we hope you'll have fun with this open-ended competition, and look forward to seeing your results - please feel free to post your work in progress renders too!